Cambridge IELTS 9 Listening Test 2
Prepare to enhance your listening skills with "Cambridge IELTS 9 Listening Test 2 with Answers." This resource offers a fantastic opportunity to practice your listening abilities in an authentic exam setting. With clear solutions provided, you can check your answers, identify areas for improvement, and fine-tune your listening techniques. Dive in and sharpen your ears for the challenges that the IELTS listening module might throw your way. Happy listening!
Cambridge IELTS 9 Listening Test 2 – Section 1
Section 1: Questions 1-10
Complete the form below. Write ONE WORD AND/OR A NUMBER.
Accomodation Form – Student Information

Type of accommodation: hall of residence
Name: Anu (1) ___________
Date of birth: (2) ___________
Country of origin: India
Course of study: (3) ___________
Number of years planned in hall:  (4) ___________
Preferred catering arrangement: half board
Special dietary requirements: no (5) ___________ (red)
Preferred room type: a single (6) ___________
Interests: the (7) ___________
and badminton
Priorities in choice of hall: to be with other students who are (8) ___________
To live outside the (9) ___________
To have a (10) ___________ area for socializing
Cambridge IELTS 9 Listening Test 2 – Section 2
Section 2: Questions 11-13
Complete the table below. Write NO MORE THAN THREE WORDS.

11. _______________
12. _______________ and _______________
13. _______________
Questions 14-16
Choose the correct letter, A, B or C.
Longfield Park
14. As part of Monday's activity, visitors will
A prepare food with herbs
B meet a well-known herbalist
C dye cloth with herbs
15. For the activity on Wednesday,
A only group bookings are accepted
B visitors should book in advance
C attendance is free
16. For the activity on Saturday, visitors should
A come in suitable clothing
B make sure they are able to stay for the whole day
C tell the rangers before the event what they wish to do
Questions 17-20
Label the map below.
Write the correct letter A-I next to questions 17-20.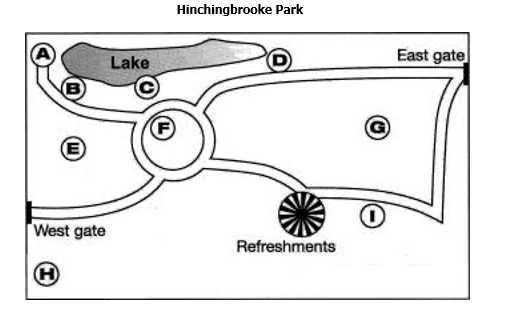 17. bird hide _______________
18. dog-walking area _______________
19. flower garden _______________
20. wooded area _______________
Cambridge IELTS 9 Listening Test 2 – Section 3
Section 3: Questions 21-24
Choose the correct letter, A, B or C.
Self-Access Centre
21. Students want to keep the Self-Access Centre because
A they enjoy the variety of equipment
B they like being able to work on their own
C it is an important part of their studies
22. Some teachers would prefer to
A close the Self-Access Centre
B move the Self-Access Centre elsewhere
C restrict access to the Self-Access Centre
23. The students' main concern about using the library would be
A the size of the library
B difficulty in getting help
C the lack of materials
24. The Director of Studies is concerned about
A the cost of upgrading the centre
B the lack of space in the centre
C the difficulty in supervising the centre
Questions 25-30
Complete the notes below.
Write NO MORE THAN TWO WORDS.
Necessary Improvements to The Existing Self-Access Centre
Equipment
Replace computers to create more space
Resources
The level of the 25. _______________ materials, in particular, should be more clearly shown.
Update the 26. _______________ collection.
Buy some 27. _______________ and divide them up.
Use of the room
Speak to the teachers and organize a 28. _______________for supervising the centre.
Install an 29. _______________
Restrict personal use of 30. _______________on computers.
---
Cambridge IELTS 9 Listening Test 2 – Section 4
Section 4: Questions 31-40
Complete the notes below.
Write ONE WORD ONLY.
Business Culture
Power Culture
Characteristics of organization: small
31.  _______________ power source
Few rules and procedures
Communication by 32. _______________
Advantage: can act quickly
Disadvantage: might not act 33. _______________
Suitable employee: not afraid of 34. _______________
Does not need job security
Role Culture
Characteristic of organization: large, many 35. _______________
Specialized departments
Rules and procedures e.g. job 36.  _______________ and rules for discipline
Advantages: economies of scale
Successful when 37.  _______________ ability is important
Disadvantages: slow to see when 38. _______________ is needed
Slow to react
Suitable employee: values security
Does not want 39. _______________
Task Culture
Characteristic of organization: project oriented
In competitive market or making product with short life
Advantages: 40.  _______________
---
Cambridge IELTS 9 Listening Test 2 Answers
1. Bhatt
2. 31 March
3. nursing
4. 2
5. meat
6. bedsit
7. theatre
8. mature/ older
9. town
10. shared
11. trees
12. Friday/ Sunday
13. farm
14. C
15. B
16. A
17. A
18. I
19. F
20. E
21. C
22. B
23. B
24. C
25. reading
26. CD
27. workbooks
28. timetable/ schedule
29. alarm
30. email(s)
31. central
32. conversation(s)
33. effectively
34. risk(s)
35. levels
36. description(s)
37. technical
38. change
39. responsibility
40. flexible
Also Check: IELTS SPEAKING MASTERCLASS by Charles Hooton
Practice: IELTS Practice Cambridge 7 General Training Reading Test B