IELTS High Score Vocabulary List by Timothy Dickeson
Do you know that 25% of your IELTS score is dependent on your vocabulary use and accuracy? This means that in case you need to achieve a high score, you need to use high scoring vocabulary.
If you're someone who is about to take the IELTS exam, then you're about to discover how to dramatically increase your score!
"IELTS High Score Vocabulary List" – gives you a specially selected list of vocabulary words which will dramatically increase your score, and includes:
---
---
– A list of words that, you'll want to learn because they are fundamental to your success
– Discover the right words to learn; don't waste your time on unnecessary words
– Synonyms and antonyms for easy understanding
– Full and clear descriptions, specific for non-native English speakers like YOU
So, if you're serious about achieving a high score and not only passing the IELTS exam…whether it's for visa, study or work purposes, then you need to get this list right now!
---
---
This book is written with one main goal in mind – to increase your IELTS score as quickly as possible. It's very specific and precise, and it provides the easiest explanations of new vocabulary. It is made to be simple, entertaining, and suitable for candidates with different learning habits. What is important, in our book we provide contextual learning – we give examples and pictures for even better results.
With this book, over 90 % of our students enjoyed a significant increase in IELTS results.
---
---
IELTS High Score Vocabulary List PDF Free Download
---
---
---
IELTS High Score Vocabulary List – Author Timothy Dickeson
Timothy Dickeson, founder of TOEFLcoach and IELTScoach, is an English teaching consultant and specialist in the TOEFL (Test Of English as a Foreign Language) and IELTS (International English Language Testing System).
After realizing the difficulties and frustration that many foreign people have with passing the TOEFL and IELTS exams, Tim decided to make it his mission to provide a clear and simple format for preparing for these exams (without the confusion and information overload!).
---
---
Since then he has taught hundreds of students and is now sharing his proven strategies to increase English fluency and prepare more effectively for the TOEFL and IELTS.
The main reason why Tim has been a preferred teacher and consultant for many students and institutes, is due to his simplified explanations and exercises to make sure the student understands exactly what needs to be done.
But above all, Timothy has a passion and love of teaching and helping people achieve results so they can continue to pursue their dreams.
---
IELTS Vocabulary Booster on Amazon
---
Or Buy this book from Amazon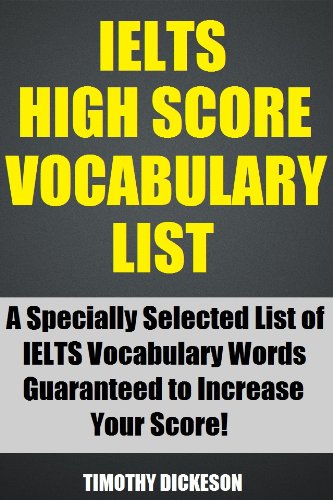 ---
---
Also Check: IELTS 7 Writing Task 2 PDF 50 Model Essays
Practice Test: Practice Cambridge IELTS 6 Listening Test 4 with Answers