The History of the Electric Guitar IELTS Listening Test 18 | Megaequip Customer Details
Part 1
Questions 1-5
Complete the form below.
Write ONE WORD AND/OR A NUMBER for each answer.
Megaequip Customer Details
Example              Answer
Order from        winter catalogue
Name                      1_________ Greening
Address                 2_________ York Terrace
Delivery address   5, York 3_________
Payment method  4_________ in advance
Reason for discount  address within the 5_________
Questions 6-10
Complete the table below.
Write NO MORE THAN ONE WORD AND/OR A NUMBER for each answer.
Megaequip Customer Order

Item
Catalogue no.
Catalogue section
Colour
Delivery notes
desk lamp
664
6_______
slate
customer will 7_______
chair
131
Home Office
8______
our van
filling cabinet two drawers with 9_____
153
Commercial
grey
Direct from London to later than 1
---
Part 2
Museum Map
Questions 11 and 12
Choose TWO letters A-E.
Which TWO things make the museum unusual?
A the guides
B the events
C the animals
D the buildings
E the objects
Questions 13 and 14
Choose TWO letters A-E.
Which TWO things can visitors do at the museum?
A buy home-made bread
B ride a horse
C ride on a tram
D buy copies of original posters
E go down a coal mine
Questions 15-20
Label the map below.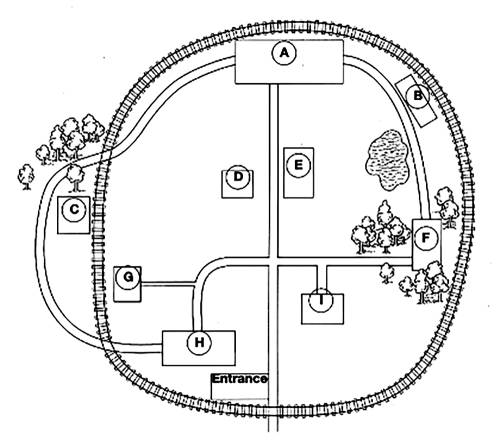 Write the correct letter A-I next to questions 15-20.
15 The exhibition centre __________
16 The High Street __________
17 The farmhouse __________
18 The coal mine __________
19 The Manor House __________
20 The Railway Station __________
---
Part 3
Cressida's Fellow Students
Questions 21-26
Which attitude is associated with the following people during the conversation?
Choose SIX answers from the box and write the correct letter, A-H, next to questions 21-26.
Attitudes
A amused
B critical
C forgetful
D impatient
E polite
F retaxed
G sympathetic
H unrealistic
People
21 Cressida's fellow students _________
22 Gressida _________
23 Ainsley Webb _________
24 Dr Erskine _________
25 Professor Jenkins _________
26 TV news centre staff _________
Questions 27-30
Choose the correct letter A, B or C.
27 What was Cressida asked to do at the beginning of her placement?
A go out to buy things for the production team
B run enands to other parts of the TV news centre
C meet visitors and escort them to the studio
28 What was fortunate for Cressida?
A She was familiar with a piece of equipment.
B She spent a lot of time in the editing suite.
C She was given a chance to interview someone.
29 What does Cressida fed she needs to improve?
A her understanding of business
B her organisational skills
C her ability to work in a team
30 What has given her an idea for her final assignment?
A a meeting with a public relations professional
B seeing a politician speaking to an audience
C a disagreement with one of the TV presenters
---
Part 4
Questions 31-40
Complete the table below.
Write NO MORE THAN TWO WORDS for each answer.
The History of The Electric Guitar

DATE
MAKER
NAME OF GUITAR
FEATURES
1890S
Orville Gibson
no name
similar in shape to a 31 _______
1925
John Dopyera
The National Guitar
made of metal, good for playing 32 _______ music
1930S
C.F. Martin Company
The Dreadnought
strings made of 33 _______
1931
George Beauchamp
The 34 _______
used two 35 _______ shaped like horseshoes to increase sound
1935
Adolph Rickenbacker
The Rickenbacker Electro Spanish
made from 36 _______
1941
Les Paul
The log
the first to be completely 37 _______
1950
Leo Fender
The Fender Broadcaster
its simplicity made it ideal for 38 _______
1951
Leo Fender
The 39 _______
easy to carry around
1952
Ted McCarty
The Gibson Les Paul
40 _______ in colour
1954
Leo Fender
The Fender Stratocaster
double cutaway design
---
IELTS Listening Test 18 Answers
Megaequip Customer Details IELTS Listening Answers
1 Oskar
2 52C
3 Avenue
4 cash
5 city
6 Living
7 collect
8 green
9 lock
10 3rd October / 3 October / October 3
Museum Map IELTS Listening Answers
11/12 A/D (in any order)
13/14 C/E (in any order)
15 E
16 A
17 C
18 H
19 F
20 B
Cressida's fellow students IELTS Listening Answers
21 A
22 H
23 B
24 G
25 D
26 E
27 B
28 A
29 B
30 C
The History of the Electric Guitar IELTS Listening Answers
31 violin
32 blues
33 steel / metal
34 Frying Pan / frying pan
35 magnets
36 plastic
37 solid
38 mass production
39 Precision / precision
40 gold
Also Check: Registration Form IELTS Listening Test 17 | Pleasanton Town Market